Posts for tag: dental implants
By Douglas L. Schneck, DDS
June 05, 2021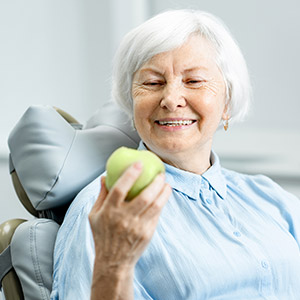 Around one in ten U.S. adults have diabetes, a metabolic disease that can disrupt other aspects of a person's health like wound healing and vision. It could also cause complications with dental implants, the premier replacement choice for missing teeth.
There are two basic types of diabetes. In type 1 diabetes, the pancreas stops producing insulin, a hormone needed to regulate the amount of sugar glucose in the bloodstream. With the more prevalent type 2 diabetes, the body either doesn't produce enough insulin or doesn't respond efficiently to the insulin produced.
Uncontrolled diabetes can contribute to several dangerous health conditions. In addition to vision impairment and poor wound healing, diabetics are at higher risk for other problems like kidney disease or nerve damage. Drastic swings in blood glucose levels can also cause coma or death.
Many diabetics, though, are able to manage their condition through diet, exercise, medications and regular medical care. Even so, they may still encounter problems with wound healing, which could complicate getting a dental implant.
An implant is composed of a titanium metal post imbedded into the jawbone. Because of its affinity with titanium, bone cells naturally grow and adhere to the implant's metal surface. Several weeks after implant surgery, enough bone growth occurs to fully secure the implant within the jaw.
But this integration process may be slower for diabetics because of sluggish wound healing. It's possible for integration to not fully occur in diabetic patients after implant surgery, increasing the risk of eventually losing the implant.
Fortunately, though, evidence indicates this not to be as great a concern as once thought. A number of recent group studies comparing diabetic and non-diabetic implant patients found little difference in outcomes—both groups had similar success rates (more than 95 percent).
The only exception, though, were diabetic patients with poor glucose control, who had much slower bone integration that posed a threat to a successful implant outcome. If you're in this situation, it's better if you're first able to better control your blood glucose levels before you undergo surgery.
So, while diabetes is something to factor into your implant decision, your chances remain good for a successful outcome. Just be sure you're doing everything you can to effectively manage your diabetes.
If you would like more information on diabetes and dental health, please contact us or schedule an appointment for a consultation. You can also learn more about this topic by reading the Dear Doctor magazine article "Dental Implants & Diabetes."
By Douglas L. Schneck, DDS
April 11, 2018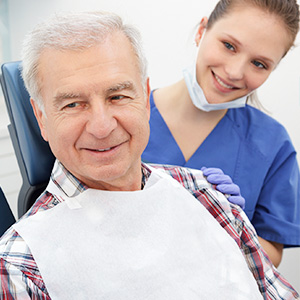 Dental implants are best known as restorations for single missing teeth. But there's more to them than that—they can also be used to support and secure removable dentures or fixed bridges.
That's because a dental implant is actually a root replacement. A threaded titanium post is inserted directly into the jawbone where, over time, bone cells grow and adhere to it. This accumulated bone growth gives the implant its signature durability and contributes to its long-term success rate (95%-plus after ten years). It can support a single attached crown, or serve as an attachment point for a dental bridge or a connector for a removable denture.
The method and design of implants differentiates it from other restoration options. And there's one other difference—implants require a minor surgical procedure to insert them into the jawbone.
While this might give you pause, implant surgery is no more complicated than a surgical tooth extraction. In most cases we can perform the procedure using local anesthesia (you'll be awake the entire time) coupled with sedatives (if you have bouts of anxiety) to help you relax.
We first access the bone through small incisions in the gums and then create a small channel or hole in it. A surgical guide that fits over the teeth may be used to help pinpoint the exact location for the implant.
We then use a drilling sequence to progressively increase the size of the channel until it matches the implant size and shape. We're then ready to insert the implant, which we remove at this time from its sterile packaging. We may then take a few x-rays to ensure the implant is in the right position, followed by closing the gums with sutures.
There may be a little discomfort for that day, but most patients can manage it with over-the-counter pain relievers like aspirin or ibuprofen. It's what goes on over the next few weeks that's of prime importance as the bone grows and adheres to the implant. Once they're fully integrated, we're ready to move to the next step of affixing your crown, bridge or denture to gain what you've waited so long for—your new implant-supported smile.
If you would like more information on dental implants, please contact us or schedule an appointment for a consultation. You can also learn more about this topic by reading the Dear Doctor magazine article "Dental Implant Surgery: What to Expect Before, During and After."
By Douglas L. Schneck, DDS
March 04, 2018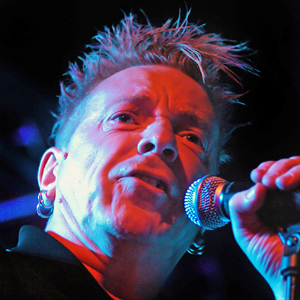 Everyone has to face the music at some time — even John Lydon, former lead singer of The Sex Pistols, arguably England's best known punk rock band. The 59-year old musician was once better known by his stage name, Johnny Rotten — a brash reference to the visibly degraded state of his teeth. But in the decades since his band broke up, Lydon's lifelong deficiency in dental hygiene had begun to cause him serious problems.
In recent years, Lydon has had several dental surgeries — including one to resolve two serious abscesses in his mouth, which left him with stitches in his gums and a temporary speech impediment. Photos show that he also had missing teeth, which, sources say, he opted to replace with dental implants.
For Lydon (and many others in the same situation) that's likely to be an excellent choice. Dental implants are the gold standard for tooth replacement today, for some very good reasons. The most natural-looking of all tooth replacements, implants also have a higher success rate than any other method: over 95 percent. They can be used to replace one tooth, several teeth, or an entire arch (top or bottom row) of teeth. And with only routine care, they can last for the rest of your life.
Like natural teeth, dental implants get support from the bone in your jaw. The implant itself — a screw-like titanium post — is inserted into the jaw in a minor surgical operation. The lifelike, visible part of the tooth — the crown — is attached to the implant by a sturdy connector called an abutment. In time, the titanium metal of the implant actually becomes fused with the living bone tissue. This not only provides a solid anchorage for the prosthetic, but it also prevents bone loss at the site of the missing tooth — which is something neither bridgework nor dentures can do.
It's true that implants may have a higher initial cost than other tooth replacement methods; in the long run, however, they may prove more economical. Over time, the cost of repeated dental treatments and periodic replacement of shorter-lived tooth restorations (not to mention lost time and discomfort) can easily exceed the expense of implants.
That's a lesson John Lydon has learned. "A lot of ill health came from neglecting my teeth," he told a newspaper reporter. "I felt sick all the time, and I decided to do something about it… I've had all kinds of abscesses, jaw surgery. It costs money and is very painful. So Johnny says: 'Get your brush!'"
We couldn't agree more. But if brushing isn't enough, it may be time to consider dental implants. If you would like more information about dental implants, please call our office to schedule a consultation. You can read more in the Dear Doctor magazine articles "Dental Implants" and "Save a Tooth or Get an Implant?"